CONTRACT TO DESCRIBE THE LEVEL OF CUSTOMER SERVICE THAT FOR YOUR PROVIDER.
If such agreements are defined right from the start, conflicts between supplier and customer will avoid about what everyone understands as quality of service. Por lo que no es solo un arma legal, sino que además, genera una relación de confianza entre las partes que favorece la comunicación y la relación comercial.
¿QUE HA DE INCLUIR UN SLA

?
Descripción del Servicio

:

Se ha de mostrar claramente lo que incluye el servicio y lo que excluye

,

es decir las características del mimo

.

Parámetros de Calidad

:

Hay que definir los indicadores de calidad del servicio

.

Disponibilidad

:

Es el parámetro más importante ya que garantiza el funcionamiento del servicio

.

Puesta en marcha

:

Indica el tiempo que transcurrirá desde la firma del contrato hasta la entrega del servicio

.

Tiempos de respuesta

:

Plazos mínimos de soporte y resolución de incidencias

.

En ocasiones se establecen prioridades

,

estableciendo dichos tiempos de respuesta al nivel de prioridad de la misma

.

Protocolos de Actuación

:

Establece que pasos ha de seguir el cliente para comunicar incidencias o realizar consultas sobre el servicio

.

Mantenimiento

:

Define las condiciones del mismo así como de las reparaciones

.

Penalizaciones

:

O compensaciones en caso de no cumplir con los niveles de servicio que se han establecido

.
TIPOS DE SLA

:

Según su concepción

.
SLA basado en el Servicio

:

Aquel que se marca y se acuerda para un servicio concreto independientemente del cliente al que se le está prestando

.

SLA basado en el Cliente

:

Se fija conjuntamente con un cliente en concreto

,

marcando juntos los parámetros objeticos que ha de tener el servicio

.

SLA Multinivel

:

Es el corporativo y combina el SLA de servicio

,

cliente y a la vez se aplica de forma interna en la organización

.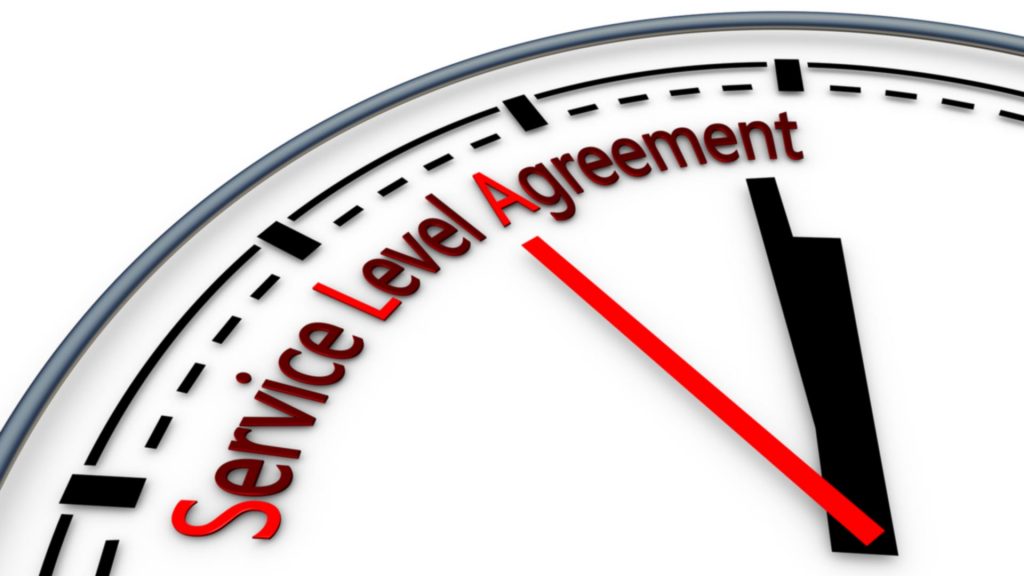 GARANTIZANDO TU NIVEL DE SERVICIO